We spend a lot of time on our sofas.
And, during that time, our sofas withstand numerous accidental spills.
In fact, research shows the average family sofa will experience 6,960 food and drink spills over 12 years1.
If you are considering investing in a new KING Sofa with a fabric finish, those numbers may concern you.
Sofas are a significant investment, but as one of the most used pieces of furniture in your home, accidental spills are almost inevitable. If you have pets or children, the chance of a stain appearing on your sofa potentially doubles, if not triples.
While stains are concerning, you do not need to wrap your beautiful KING Sofa in plastic to protect it. We offer KingGuard+ fabric protector when you order a new sofa or get your KING Sofa recovered.
In this article, we will explain how KingGuard+ works, the benefits and how to care for your fabric sofa. After reading this article you will be able to make an informed decision on whether investing in KingGuard+ is the best option for you.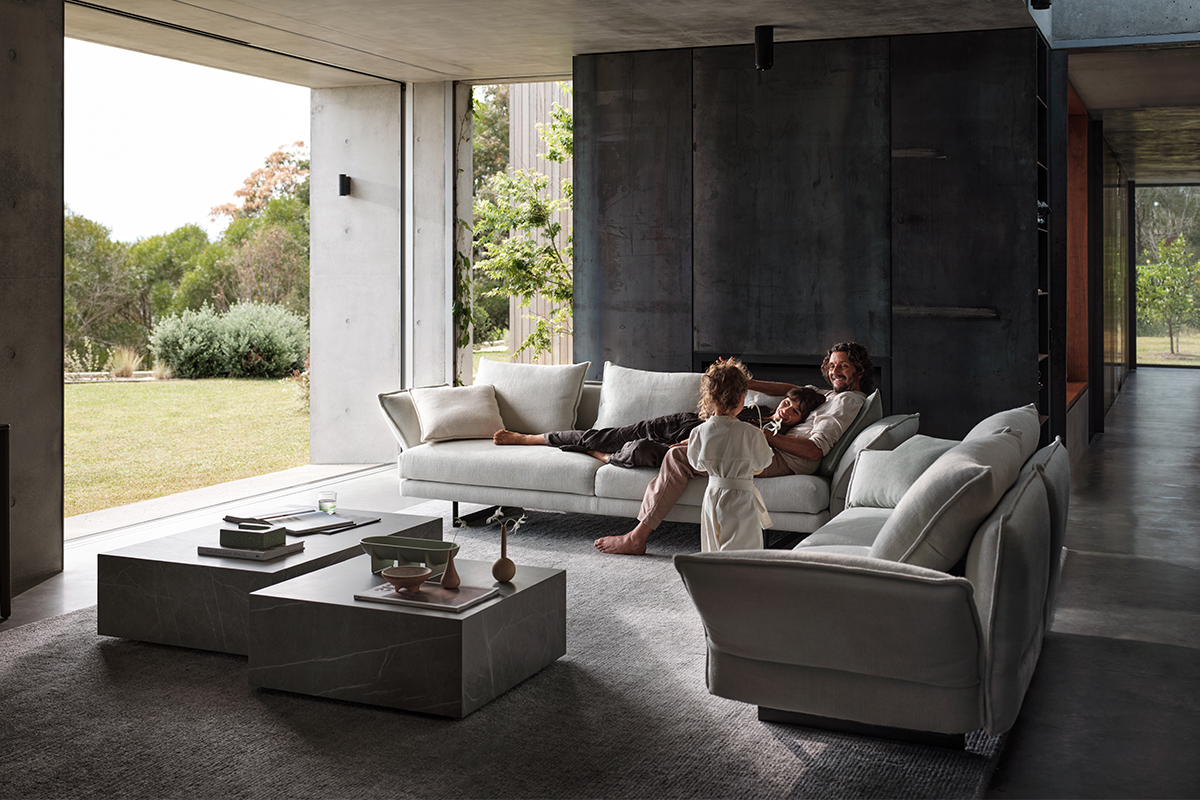 Featured above, the Zaza 3 Seater and Zaza 2.5 Seater with Monument Coffee Tables and the Apollo Rug.
What is KingGuard+ fabric protector?
Designed to protect your KING Sofa, KingGuard+ is our non-toxic, water-based fabric protection treatment.
The treatment is not just sprayed on the surface of your furniture. Instead, we treat the fabric prior to being sewn into sofa covers, seat cushions, and pillows.
The fabric is treated inside a machine to allow the formula to absorb deep into the fibres. This process allows us to apply the protection treatment to the entire surface area, including seams and sofa corners.
As an advanced protective fabric treatment, KingGuard+ helps safeguard your sofa. The formula is designed to protect the fibres from being penetrated by liquids temporarily to give you time to clean up the spill. It's important to note that if the spill is not cleaned up or cleaned correctly the stain will still appear.
Many customers choose KingGuard+ at the time of purchase, which can be applied to any furniture item with a fabric covering, including sofas, occasional chairs, dining chairs, ottomans and cushions.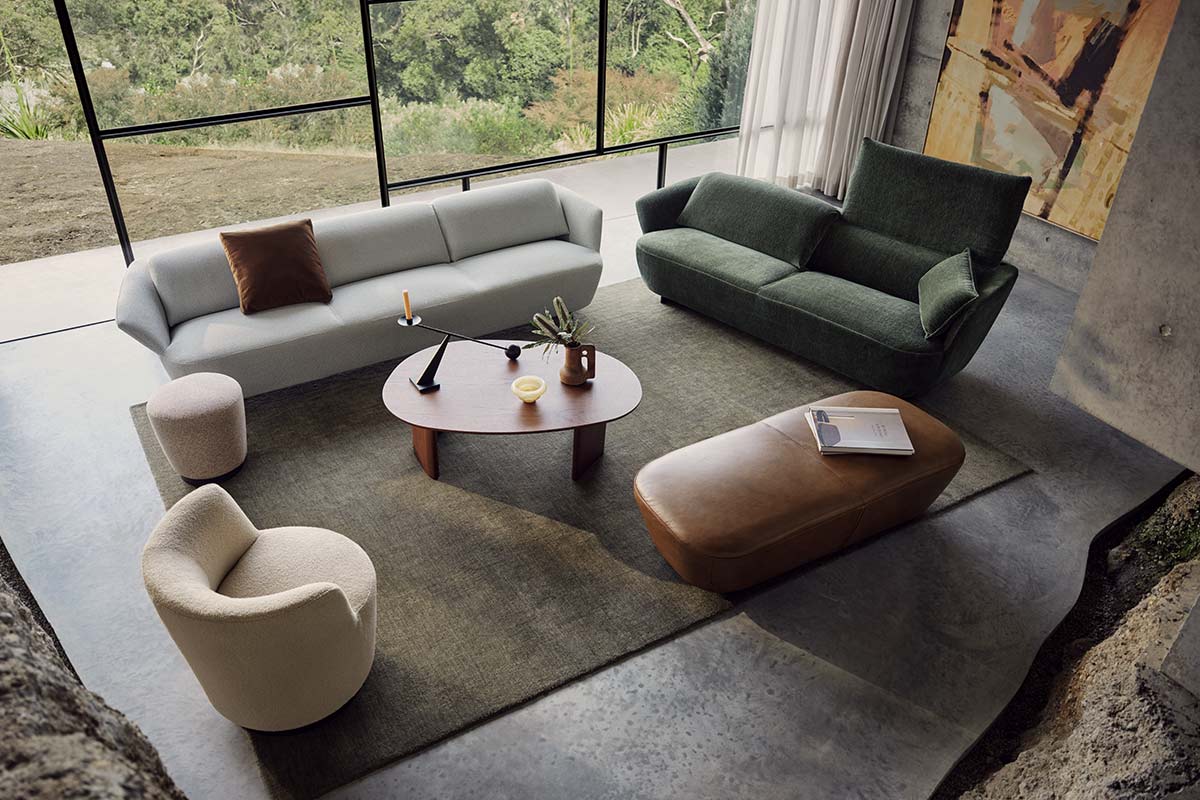 While not waterproof, KingGuard+ gives you the time to attend to spills when they occur.
Benefits of KingGuard+
Whether you are laying on the sofa, sitting on a fabric-covered dining chair or relaxing in an occasional chair, accidents happen — especially if you have children, keep your pets indoors, or enjoy entertaining.
Thankfully, KingGuard+ offers a safety net, shielding your fabric against common spills, while improving the longevity and appearance of your furniture.
KingGuard+ also makes stain removal easier by preventing stains or spills from soaking into the fabric fibres.
Other benefits of KingGuard+ include:
Non toxic water-based repellent

Water and oil repellent

Allows you the time to attend to spills and stains

Anti-microbial (Bluesign®/

Sensitive Choice® approved

)

Anti-mildew

Anti-bacterial.
While KingGuard+ does not make your sofa fabric waterproof, the treatment creates a barrier and helps repel liquids allowing for easy cleaning.
How to care for your fabric
While KingGuard+ protects fabric, general fabric care is still required to maintain and extend the life of your fabric sofa and furniture.
Regular vacuuming will help clean your sofa, reduce the appearance of pills and preserve the aesthetics of the fabric. Even fabrics protected with soil repellent need immediate attention to spills and stains. The KingGuard+ fabric protector helps stop liquid spills penetrating the fibres of the fabric. This allows you the time to blot off the spill and helps prevent permanent staining.
To help maintain the appearance of your fabric sofa, we recommend following these helpful care instructions:
Clean your fabric regularly.

Pay attention to wear areas such as seat cushions, armrests and headrests, which come in direct contact with skin or hair.

Blot spills and attend to stains when they occur.

A fresh stain is easier to clean than an old-dried one.

Use only fabric cleaners designed for your fabric.

Designed exclusively for our premium range of fabrics, our

Fabric Care Kit

will clean, protect and maximise the life of your sofa. Our Fabric Care Kits are available in our

Showrooms

or online.

Dust or vacuum your fabric furniture weekly to ensure dirt is removed.

Vacuuming weekly with low suction and a soft brush accessory will help keep your sofa clean and reduce the appearance of pills.

Fabric protection will not protect your fabric from dye transfer.

Care must be taken with clothing, belts, and throws that are not colourfast. We also recommend keeping newspapers and pens away from your sofa as ink stains are difficult to remove

.

Protect your fabric from direct and indirect sunlight

. Prologued exposure to the sun can result in fading and cause the fibres to become brittle and weaken.

Professional cleaning.

We recommend professional cleaning every 12-18 months or as needed to maintain your sofa. Remember, a

t KING, we offer KingCare

®

cleaning products that are especially formulated for our premium fabrics.
Why is KingGuard+ approved by Sensitive Choice

®?
KingGuard+ is a non-toxic water-based formula approved by Sensitive Choice®.
Developed by the National Asthma Council, the Sensitive Choice program identifies asthma and allergy-aware products. Known as the Bluesign®, Sensitive Choice-approved products will feature a blue butterfly to show they are asthma and allergy friendly.
As a non-toxic and water-based antimicrobial treatment, KingGuard+ is Bluesign® approved for reducing bacterial and mould growth, and for not containing hazardous chemicals.
You can apply KingGuard+ to any furniture item with a fabric covering, including the above featured Quay Dining Chairs.
Choosing your fabric with confidence
Fabrics are more than just aesthetics, and fabric longevity involves more than just the KingGuard+ protection treatment. Durability and quality are in the DNA of your fabric—while the right care, cleaning and protection will prolong the life and appearance of your fabric sofa and furniture.
Our premium fabrics are carefully selected following various fabric testing methods, including abrasion, pilling, and UV. These tests ensure our fabrics perform in a way that suits their intended purpose and our varied lifestyles.
When you buy a KING Sofa or fabric furniture, you can buy with confidence knowing our fabrics are high-quality, long-lasting, and aesthetically beautiful.
KingGuard+ and regularly cleaning your fabric will help maintain the appearance and feel of your fabric for years to come.
After reading this article, you know the benefits of KingGuard+ and why our Showroom team will recommend it to you. If you are unsure if a fabric finish is right for your sofa, you can read our leather vs fabric article to help make an informed decision.
If you wish to see our range of quality fabrics and KING Sofas in person, you can visit your nearest Showroom. Alternatively, if you do not live near a KING Showroom, you can view our Sofas, Occasional Chairs and fabric swatches online.